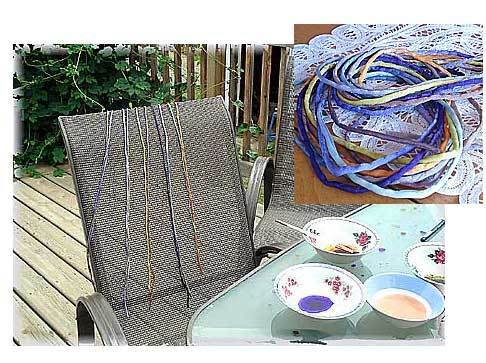 I love color. I bought some raw un-dyed silk cord and some mouth watering colors to paint them with...you can make a million colors from 5, did you know that?? I've got silk cords in lots of 5 (3 ft lengths)available in my Etsy shop...changing all the time so check back often if you don't see the color you're after.

I do, or should say...I used to do, watercolor. I haven't had a lot of time for it lately. When I began to do flamework I told my husband that it would go hand in hand. I would put away the glass the odd week end and bring out my watercolors...that was 2 years ago and it hasn't quite work that way. Glass is pretty much it. Sometimes I'll notice a painting and imagine how the artist let just enough water run into the gamboge to make the sun light hit the grass like that. Or I'll watch someone and in my mind I'll draw the lines ...but for the most part my need to create is completely fulfilled in the glass. And that's because I get to melt color into color...
!glorious color! So.. what color are you, do you think? Colorworks ... I'm orange blue and purple..